Rochelle ISD enrollment and registration for all Hornets (both returning Hornets and new Hornets) will take place in the Rochelle ISD cafeteria from 5PM to 7PM on Wednesday, July 22nd, Thursday, July 23rd, and Monday, July 27th. All families must bring a water bill, electricity bill, or other similar document to determine residency. Students and families new to the district will need to bring their student's social security card, the student's birth certificate, immunization records, and a parent ID. We will be practicing social distancing in our cafeteria and have worked to make the registration process as simple and quick as possible. We will have someone at the cafeteria door to help direct traffic; we hope that our streamlined processes minimize wait times in the event we reach capacity in the cafeteria. School spirit shirts can be purchased for $15 at registration. Each student will be receiving an electronic device, our technology agreement cost this year has been lowered to $20 for all students; parents please bring this $20 with you to registration. Also, if your student is driving to campus, the parking fee for this year is $10 (and students can paint their spots for free as long as they get their design approved by Rochelle administration ahead of time). Schedules will also be able to be picked up at registration. Our personally designed four-day school week model will be implemented starting this fall; our first day of school is set for August 3rd. Regardless of how next year starts, proceeds, and concludes, our shared goals, philosophies, and campus culture will remain centered on student safety and student achievement. If you haven't applied for a transfer or want to learn more about the opportunities that await students at Rochelle ISD, please give us a call at 325-243-5224 or stop by our campus. The Rochelle ISD Meet the Teacher will take place on Thursday, July 30th starting at 6PM. As has become common during these unique times, this date and time may change. Any changes to events will be posted on our new website as well as the Rochelle ISD App (available for free on both the App Store and on Google Play). Please contact the office at 325-243-5224 if you have any questions. #ChooseRochelle


Rochelle ISD is hosting an informational zoom session beginning at 6:00 tonight, for the opening of the 20-21 school year. If you would like to attend please use the zoom link below. Dave Lewis is inviting you to a scheduled Zoom meeting. Topic: RISD Reopening Meeting Time: Jul 15, 2020 06:00 PM Central Time (US and Canada) Join Zoom Meeting
https://us04web.zoom.us/j/72547236229?pwd=WXd6bGlsQ21FZFRpam8ycVpWTlBsQT09
Meeting ID: 725 4723 6229 Passcode: J3C6Gp

From Coach Cherry: Due to Xaiver's celebration, we will have summer workouts from 5-6:45 tonight. This way everyone can do both! See y'all at 5!

Lots of updates from Rochelle ISD today coming from this morning's meeting and an important Zoom Wednesday evening hosted by Mr. Lewis. Here's some information from Mr. Fields
https://youtu.be/0TeDXDidPBw


RISD is proud to announce its plans for reopening. Attached is the long version. We will begin classes on August 3. For further information please contact Dave Lewis at 325-243-5224 or email
dleiws@rochelleisd.net
.
https://5il.co/i83j

School supplies lists will been taken to both WalMart and Dollar General in Brady early this week. Here's a quick link to our lists for this year:
https://5il.co/i80w
. #ChooseRochelle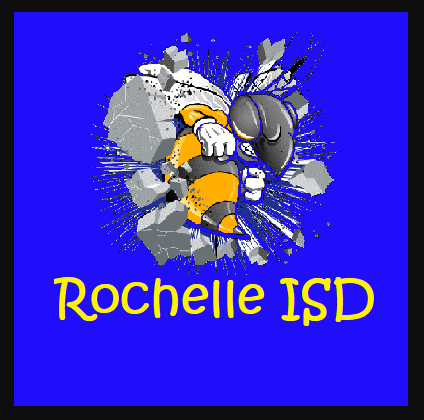 Reminder practice today at 5:30 for all male athletics.

RISD will be releasing information about the start of school to the public this week. For more information on the release contact 325-243-5224 or email
dlewis@rochelleisd.net
.

Just a reminder that Rochelle ISD will be hosting a safety meeting this morning at 9:30 in the cafeteria. We will be discussing the start of school and safety procedures. Anyone wanting to participate is welcome.

I hope everyone had a great week off! Looking forward to starting back!! See you Monday the 13th at 5:30! #Chooserochelle

Rochelle ISD is having a safety committee meeting on Monday to discuss precautionary measures for the 2020-2021 school year. I am inviting any parent that would like to come. Call 325-243-5224 or email
dlewis@rochelleisd.net
if you are interested.


RISD would like everyone to know that we are in the process of planning for the reopening of school on August 3. We will release a short survey for reopening school in the next few weeks. Please contact Dave Lewis for any further questions.

4 Weeks JRH Attendance 19/19 Merek,Maddox,Gunner 16/19 Alan 14/19 Xavier 13/19 Dallas,Kendrick 12/19 Clayton 6/19 Chris 5/19 Kelton,Bryce 4/19 Benji 3/19 Conner 2/19 Justin,Jayce 1/19 Sam,Pitcox 0/19 Landon,Naz,Devin

4 weeks High School attendance 19/19 Rance 18/19 Tony,Aiden,Bobby 16/19 Jason, Josh 14/19 Peyton 13/19 Mendez,Sean,Colby 12/19 Asher 11/19 Dakota,Jason M. 8/19 Noah,Hunter 6/19 Adrian B 5/19 Chase 4/19 Keagan 2/19 Levi 1/19 Rimer,Tomas,Robbie 0/19 Randy

Due to UIL concerns we will not have workouts next week. We will start back July 13th. Have a good break and be safe! Coach Cherry

3 weeks High School attendance 15/15 Rance and Bobby 14/15 Jason,Tony, Aiden 12/15 Josh 11/15 Sean, Peyton 10/15 Dakota, Colby 9/15 Dylan, Jason M.,Asher 6/15 Noah 5/15 Adrian, Hunter, 4/15 Chase 3/15 Keagan 1/15 Levi,Rimer, Robbie, Tomas 0/15 Randy