The Rochelle High School UIL Academic Team competed in the District 17 UIL Academic Meet on Friday, March 25th, and Monday, March 28th. We are pleased to share that Rochelle HS students came away from the competition in first place! All of our participating academic teams from Rochelle placed either first or second place in the district; every team has advanced to the Regional competition in Waxahachie later in April. The overall UIL team from Rochelle HS received over 60 individual and team awards coming out of the district competition. Our coaches and students did a phenomenal job of preparing for the district meet, and our hard work and determination really helped us achieve the success we did. A special thank you is extended to Mrs. Turk for hosting such a wonderful meet (this is the second UIL meet that Rochelle ISD has hosted this year).
The total team points for the competing schools are shown below.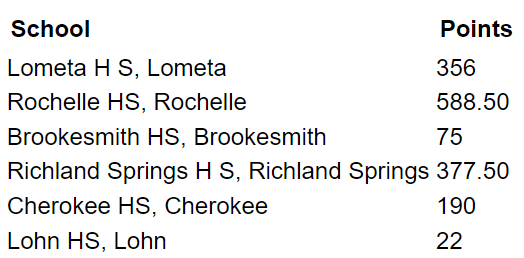 Individual and team results for our students at Rochelle are below. Congratulations to all of our students that participated in the UIL District Meet and to all of our coaches that did such a wonderful job of preparing them for the UIL Academic meet. We have 27 students that will be attending the Regional Meet at the end of April!